UPDATE TERAKHIR : 221111 NCT 127 '윤슬 (Gold Dust)' @ NCT 127 2ND TOUR 'NEO CITY : SEOUL – THE LINK ⁺'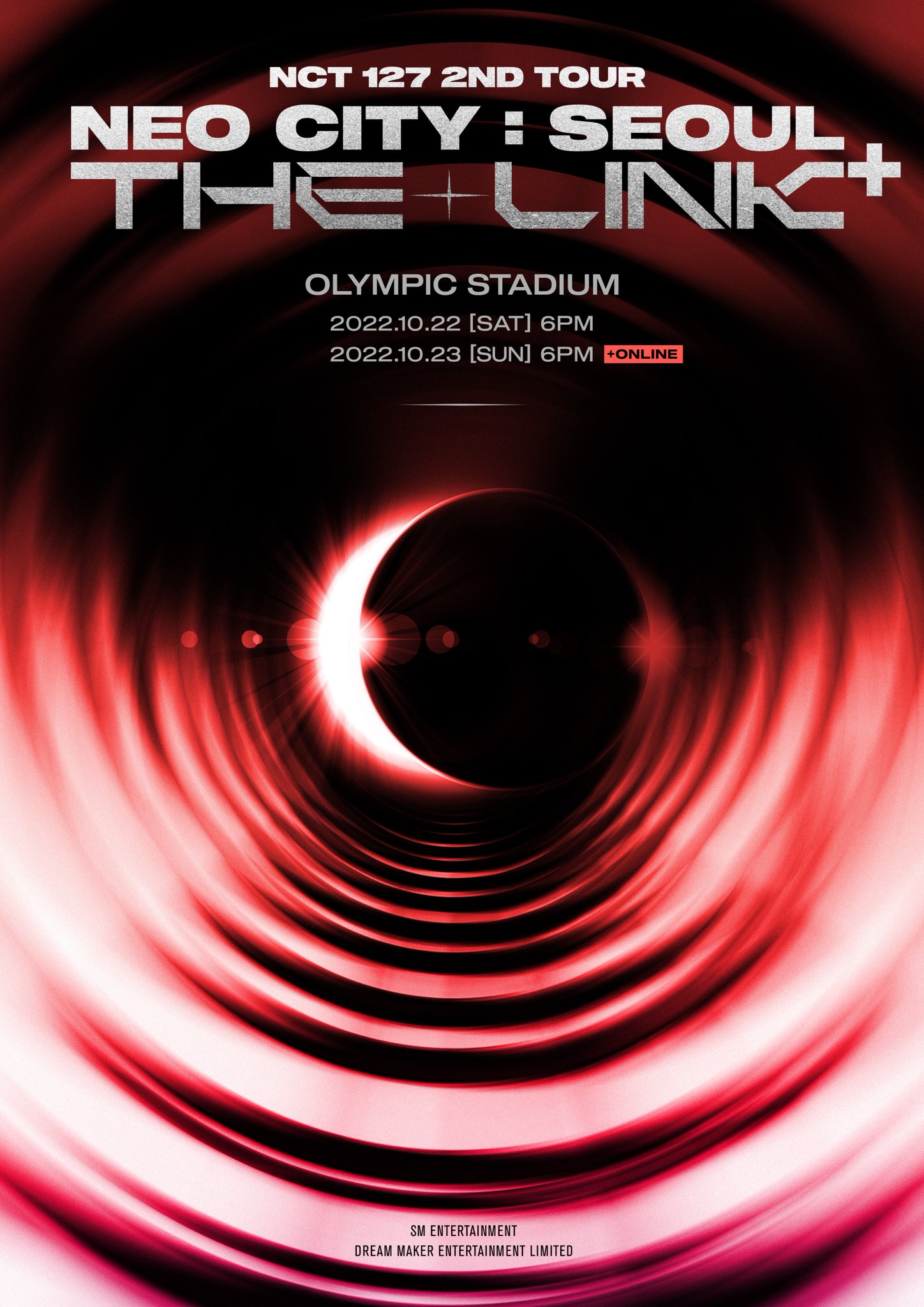 STOPS
211217 Gocheok Sky Dome, Seoul
211218 Gocheok Sky Dome, Seoul
211219 Gocheok Sky Dome, Seoul +ONLINE
220116 Saitama Super Arena, Tokyo (Day)
220116 Saitama Super Arena, Tokyo (Night)
220522 Vantelin Dome, Nagoya
220528 Tokyo Dome, Tokyo +ONLINE
220529 Tokyo Dome, Tokyo
220625 Kyocera Dome, Osaka
220626 Kyocera Dome, Osaka
220702 Singapore Indoor Stadium, Singapore
220904 SM Mall Of Asia, Manila
221006 Crypto.com Arena, Los Angeles
221013 Prudential Center, Newark
221022 Olympic Stadium, Seoul
221023 Olympic Stadium +ONLINE
221104 Indonesia Convention Exhibition (ICE), Jakarta
221105 Indonesia Convention Exhibition (ICE). Jakarta
221203
221204
221205
Notice : Konser "The Link" yang dilangsungkan di Seoul masih masa pandemi. Kursi penonton tidak diisi penuh dan banyak peraturan khusus yang diterapkan, utamanya wajib memakai masker dan dilarang berbicara/ berteriak, penonton hanya boleh memberikan dukungan lewat tepuk tangan.
Melalui akun twitter @NCT_OFFICIAL_JP, NCT 127 memberitahukan pembatalan konser offline di Saitama Super Arena (SSA) Tokyo pada Januari mendatang dikarenakan regulasi baru Jepang mengenai kedatangan warga asing ke dalam negri terkait situasi pandemi. Penyelenggara konser akan menayangkan siaran ulang dari konser hari ketiga di Seoul langsung di SSA ditambah dengan beberapa penampilan baru.
The Link+ dilaksanakan pertamakali di Seoul dengan kapasitas penonton penuh dan setlist yang di-upgrade
Konser hari pertama The Link Jakarta harus terhenti di tengah pertunjukan dikarenakan alasan keselamatan. Hari kedua berjalan dengan lancar.
DOWNLOAD & STREAMING
CREDIT. cê cyl 沈 Blueberry, Varley, TARTE,
SETLIST
| SEOUL | JAPAN | THE LINK+ |
| --- | --- | --- |
| Opening VCR | Opening VCR | Opening VCR |
| 01. Kick It | 01. Kick It | 01. Kick It |
| 02. Lemonade | 02. Lemonade | 02. Lemonade |
| 03. Earthquake | 03. gimme gimme | 03. Cherry Bomb |
| Ment 01 | Ment 01 | Ment 01 |
| 04. Elevator | 04. Elevator | 04. Elevator |
| 05. Dreamer | 05. Love Song | 05. Dreamer |
| 06. Love Song | 06. First Love | 06. Love Song |
| 07. Taeil SOLO : Another World (RnB Ver.) | 07. Johnny, Taeyong, Yuta, Jaehyun UNIT : Run Back 2 U + BASSBOT | 07. Taeil SOLO : Another World (RnB Ver.) |
| 08. Taeil & Haechan DUET : Love Sign | 08. Taeil SOLO : Another World (RnB Ver.) | 08. Taeil & Haechan DUET : Love Sign |
| 09. Johnny, Taeyong, Yuta, Jaehyun UNIT : Run Back 2 U + BASSBOT | 09. Taeil & Haechan DUET : Love Sign | 09. Johnny, Taeyong, Yuta, Jaehyun UNIT : Run Back 2 U + BASSBOT |
| 10. Music, Dance | 10. Highway To Heaven | 10. Highway To Heaven |
| 11. Highway To Heaven | 11. Breakfast | 11. Breakfast |
| 12. Breakfast | VCR (Running Back 2 U) | VCR (Running Back 2 U) |
| Ment 02 | 12. Mark SOLO : Vibration | 12. Mark SOLO : Vibration |
| VCR (Running Back 2 U) | 13. Taeyong SOLO : Moonlight | 13. Taeyong SOLO : Moonlight |
| 13. Mark SOLO : Vibration | 14. Taeyong & Mark Duet : The Himalayas | 14. Taeyong & Mark Duet : The Himalayas |
| 14. Taeyong SOLO : Moonlight | VCR (Lipstick) | VCR (Lipstick) |
| 15. Taeyong & Mark Duet : The Himalayas | 15. Jungwoo SOLO : Lipstick | 15. Jungwoo SOLO : Lipstick |
| | 16. Focus | 16. Focus |
| VCR (Lipstick) | 17. Johnny SOLO : Shower | 17. Johnny SOLO : Shower |
| 16. Jungwoo SOLO : Lipstick | 18. Jaehyun SOLO : Lost | 18. Jaehyun SOLO : Lost |
| 17. Focus | 19. The Rainy Night | 19. Yuta SOLO : Butterfly |
| 18. Johnny SOLO : Shower | 20. Back 2 U (Accoustic) | 20. The Rainy Night |
| 19. Jaehyun SOLO : Lost | 21. VCR + Doyoung SOLO : The Reason Why It's Favorite | 21. White Night |
| 20. The Rainy Night | 22. Favorite (Vampire) | 22. Back 2 U (Accoustic) |
| 21. Intro + White Night | Ment 02 | 23. VCR + Doyoung SOLO : The Reason Why It's Favorite |
| 22. VCR + Doyoung SOLO : The Reason Why It's Favorite | 23. Love On The Floor | 24. Favorite (Vampire) |
| 23. Favorite (Vampire) | 24. Bring The Noize | Ment 02 |
| 24. Simon Says | 25. Yuta SOLO : Butterfly | 25. Regular |
| Ment 03 | VCR (NCT 127 Messages for NCTzens) | 26. Love On The Floor |
| 25. Love On The Floor | 26. Paradise (Remix) | VCR (NCT 127 Messages for NCTzens) |
| 26. Bring The Noize | 27. Love Me Now | 27. Paradise (Remix) |
| 27. Yuta SOLO : Butterfly | 28. Chica Bom Bom | 28. Touch |
| VCR (NCT 127 Messages for NCTzens) | 29. Colors (unreleased JP) | 29. Love Me Now |
| 28. Paradise (Remix) | Ment 03 | Ment 03 |
| 29. Love Me Now | 30. Touch (JP) | 30. Sticker |
| 30. Touch | 31. Cherry Bomb | 31. Faster |
| 31. Pilot | 32. Sticker | 32. 2 Baddies |
| 32. Sticker | VCR (Magic Carpet Ride) | -ENCORE- |
| 33. Cherry Bomb | -ENCORE- | VCR |
| -ENCORE- | 33. Dreams Come True | 33. Dreams Come True |
| 34. Dreams Come True | 34. Sunny Road (unreleased JP) | Ment 04 |
| Ment 04 | Ment 04 | 34. Promise You |
| 35. Promise You | 35. Promise You | |
---
PERFORMANCE VIDEO
BEHIND/ OTHER
POSTER
220516 WOWOW Music Update : Twitter